Partner Overview
Learnerbly is the Performance Enablement Platform that helps businesses achieve the goals they need to grow.
Through structured learning and access to curated content including coaches, courses, videos, podcasts, and articles businesses empower their people to perform at their best, develop in their roles and contribute to the success of the entire organization.
With Learnerbly, high-growth companies fill the knowledge gaps that have kept them from reaching the goals they set as a business, as teams, and as individuals. They fill these gaps with vetted learning resources from over 250 curated providers including coaches, online courses, articles, videos, podcasts and books. These resources come in varied formats so that the learner can unblock project progress quickly by choosing the resource that complements their workflow. Content playlists allow companies to align their people to shared objectives, learn from experts, and distribute knowledge across the entire company.
Key features:
Marketplace of 250+ providers & varied resource formats for every need
Playlists internal and external content collections organised by topics, projects, and skills.
360 Recommendations – making continuous feedback loops actionable by connecting feedback to relevant learning resources
Goals – A place to plan your learning around business, team and personal goals to ensure you have everything you need to achieve them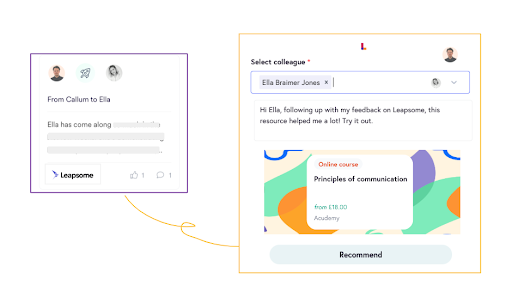 The integration allows you to sync your employee data from HiBob to Learnerbly – completely automatically so you don't waste time and energy that's better spent elsewhere.
It's able to help clients keep their employee data up to date in Learnerbly. People and HR teams don't need to spend time updating the Learnerbly platform with new joiners, leavers, or managerial changes. It's a scalable solution that happens automatically enabling learning to start right away and gives everyone precious time back.
To learn more or see this integration in action, click Let's Go below!