Partner Overview
Founded in 2007, JobAdder is an innovative B2B, cloud-based SaaS platform designed to help make recruiting more efficient and joyful for everyone. Already trusted by thousands of businesses worldwide, JobAdder empowers in-house recruiters and talent acquisition teams to spend more of their time delivering real human value to candidates and hiring managers and less time on repetitive admin. JobAdder operates globally, with headquarters in Australia, and local customer-facing teams in the UK, USA, Canada and New Zealand.
Why JobAdder?
– Broader candidate sourcing – AI skill matching to help search and evaluate your existing talent database. Native job posting to more than 200 global job boards.
– Expert training and support – Self-paced, contextual training and product walkthroughs. Unique, multi-level, industry-recognised product certification programs. An extensive library of video and article content to answer the most common questions on demand. We're here to help you in any way we can!
– Flexible contracts and pricing – Flexible terms, month to month or annual agreements. We'll work with you to find the best solution for your business. Stay because you want to, not because you have to.
– An extensive portfolio of partner integrations – We're good at what we do, but we know there are some tools and apps that you just can't live without. The good news is, we integrate with over 100 recruitment and productivity tools to help you do more. With new ones added each month, you're all set to do your best work.
– A commitment to continual innovation – We're on a mission to make the recruitment experience efficient and joyful for everyone involved. To help us deliver, we talk constantly with our customers, finding ways big and small to improve – both our product and our service.
– Built to scale with you – Whether you're a team of one or 100, taking it slow or growing fast, we're here to scale with you every step of the way. You'll never need to change platforms again.
Key features and modules:
For Recruitment & Staffing Agencies:
– Native job board posting
– AI database search
– Flexible pricing
– Tools and integrations
– Mobile app
– Workflow automation
– Insights and analytics
– Recruitment CRM
– Custom templates
For In-house Talent Teams:
– Job requisitions management
- EVP and employer branding
– Training and support
– Workflow automation
– AI database search
– Job boards
– Recruitment CRM
– Insights and analytics
– Tools and integrations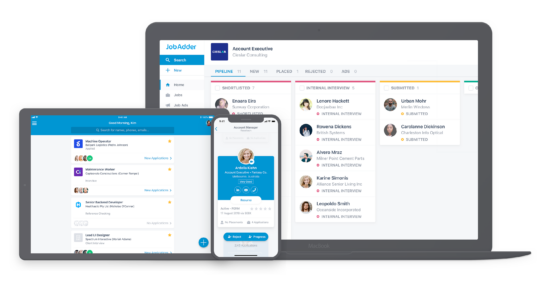 Integrating JobAdder with Bob allows you to automatically take newly-hired candidates from JobAdder and add them as an employee in Bob. This integration is owned and supported by HiBob.The integration is a one way integration via API, from JobAdder to Bob. The candidate's details will be pushed to Bob when they are marked as Hired in JobAdder and you click on the link in the email notification or on the in-app notification in Bob. Data mapping is available in Bob's JobAdder integration.