Partner Overview
Dots is a leading SaaS platform integrated with a world-class logistics network, revolutionizing how organizations manage their IT equipment worldwide. Our cloud-based solution provides real-time updates and a user-friendly interface, making asset tracking and monitoring effortless. From on-off boarding to warehouse storage, Dots ensures a seamless experience for businesses of all sizes.
Dots presents a transformative solution, offering a comprehensive view of your assets worldwide. This means an end to the costly inefficiencies of misplaced hardware and untracked spending. Our integrated logistics network ensures seamless global operations, eliminating the headache of navigating diverse tax laws and providing full transparency for vendors and delivery partners. With Dots, you gain unprecedented control over your assets, with no more wastage or opacity in your operations. It's a game-changer, revolutionizing how organizations manage and utilize their resources, ultimately leading to substantial cost savings and heightened operational efficiency.
Key features:
Cloud-Based Asset Management
Streamlined On-Off Boarding Processes
Global Logistic Solution with Warehouse Storage in Multiple Locations
Integration with HR and ERP Systems
Real-Time Monitoring and Tracking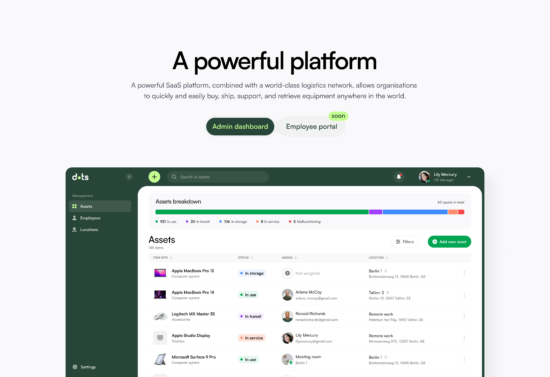 The integration with HiBob amplifies the efficiency of HR processes by seamlessly connecting their platform with Dots. This integration enables swift provisioning and management of IT equipment for new employees, ensuring they have the necessary hardware from day one. It also streamlines the off-boarding process, ensuring equipment's swift retrieval and secure handling.
The Dots-HiBob integration streamlines the connection between HR and IT asset management. When onboarding a new employee through HiBob, Dots ensures prompt delivery of tailored IT hardware, regardless of location. It also provides real-time asset tracking for existing employees and a clear budget breakdown for teams and departments. This ensures precise cost control and compliance with company policies throughout the asset lifecycle. The integration further simplifies HR's interaction with complex MDM platforms like Jamf and Intune, making device management intuitive and efficient. Ultimately, it empowers organizations to optimize resources, enhance security, and maintain seamless IT operations.