What does it mean to be an HR leader in the evolving world of work? Now that digital tools and automation systems have taken over basic admin and payroll responsibilities, HR leaders are expected to step up and tend to culture, as well the employee experience. The modern HR role is in reformation, allowing space for new tasks to be embraced by people professionals developing themselves as leaders of their landscape.
HR needs to swiftly transform to become those people leaders of tomorrow, and to do that, they should be…
#1: Getting to know the basics
Folkman Zenger's 5-year global study of feedback on HR leaders found that fellow company and team members highly value specific attributes within the HR professionals: knowledge of labor laws, hiring practices, benefit, compensation, anti-discrimination policies, medical and family leave, and occupational health and safety.
As a transformative people leader, understanding the fundamentals requires adherence to several action items that keeps HR professionals in the loop. These action items are simple, though; subscribe to relevant publications and outlets, attend noteworthy events, and take a course or seminar on a topic that feels unfamiliar.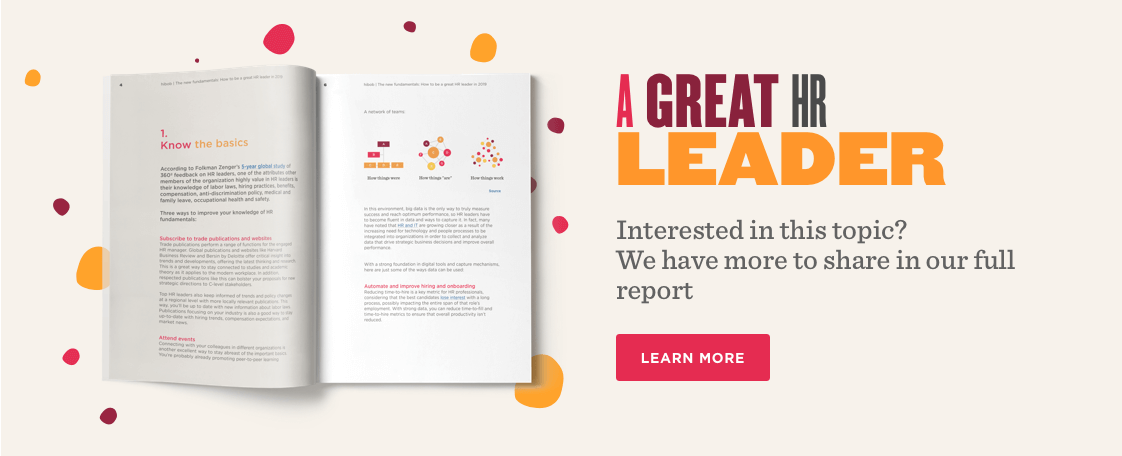 #2: Embracing people data
Workforce analytics is the most sought-after capability by HR departments today. People data allows HR leaders to make data-driven decisions about employees in everything from fair compensation and benefits to inclusive culture and engagement.
Revolutionary HR leaders need to implement people data functions to automate the hiring and onboarding processes, measure productivity, and keep an eye on churn rates. By using the right tools and understanding the benefits of data, HR professionals upskill themselves and their employees.
#3: Always innovating and strategizing
There's always room for improvement when it comes to culture, collaboration, and best practices that impact your people's happiness and morale. Folkman Zenger's 5-year global study also found that HR leaders aren't as popular with employees or management if they don't have a "clear perspective between the big-picture strategy and the details." That's why it's crucial to strategize new initiatives that make the ins and outs of culture, collaboration, and best practices unique to your company.
Using empathy, ideation, and experimentation you can test new designs that restructure your workplace and its flow – both socially and professionally. It's not just about problem-solving anymore, but enhancing the processes and practices already in place.
Recommended For Further Reading
#4: Getting to know your business
HR is no longer solely seen as an administrator. HR is a source of knowledge that perpetuates communication, engagement, and accessibility to relevant resources. HR leaders of today understand these resources, both business and people-related, and clearly communicate industry information to others. They're informed and well-aware of news and updates that affect the company and employees.
HR leaders looking to upskill should keep in touch with the space and its frequent changes: embed yourself within different departments, mediate cross-functional communication to gain a holistic view of your people, stay on top of industry trends, and analyze data to improve hiring strategy, services, and company culture.
Developing HR leadership skills can turn the average professional into a game-changing member of the landscape. By embracing these four key principles, change will become easier to adapt to and personal growth will be achieved more quickly than anticipated. Keeping up with the new world of work means understanding where we're headed, and as an HR leader, you should feel prepared to guide us there.
---
From Stephanie Stevens
Stephanie is Content Marketer at Hibob. She has a background in Clinical Psychology and Crisis Management, and enjoys abstract painting and watching horror films in her spare time. She believes that people can connect with themselves, their peers, and the world around them through creative writing, helping them foster a deeper sense of self and their life goals in the process.