Getting people to accept a job offer requires that companies meet the needs of the modern workforce, offering benefits and social positioning that drives employees to get excited and engaged long term. To find out what people's workplace preferences are, we conducted a national survey online, collecting responses from 1,000 employees age 18+ in the United States.
In light of our findings, which aspects of a company's culture drives people to accept a job offer?
What does the general population want?
The modern workforce is hung up on life-work harmony. Today's employees like to give 110% to their job while at the office, but remain present in their nightly and weekend activities. Sounds fair, right? But we can't deny that overtime or odd hours aren't occupational responsibilities that rear their heads every so often. So, with respect to the extra or fluctuating hours that come as a result of being dedicated to one's job, flexibility seems like a simple solution to search for the balance we all crave.
When surveyed, 52.8% of the general population said that paid time off (PTO) and flexible hours were the #1 culture component that would make them sign on at a new company. Most likely, because PTO allows employees to take well-deserved time off which in turn, prevents burnout. 23.6% could be persuaded to ink a new job offer by unique perks programs, and 13.2% want their new company culture to offer regular office happy hours.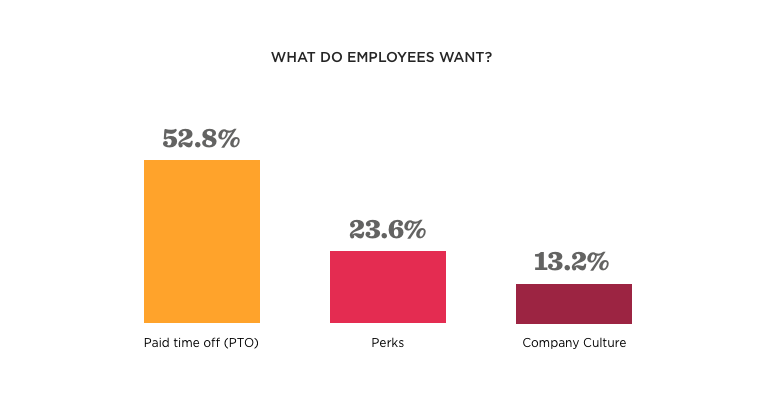 Now, let's break it down a bit more…
What do men and women want?
If men are from Mars and women are from Venus, what would it take to convince each gender to commute to another planet for work? We discovered that men and women vastly differ over which aspect makes them excited to sign on at a new company.
59% of employed women in the United States are most interested in flexible work hours and PTO when deciding to accept a job offer. PTO, a key factor in wellbeing and mental health, is proven to increase productivity. Motivation is often easily induced by flexible hours and remote work, allowing women to take control of their own busy schedules.
Men prefer the exact opposite of their female counterparts, with 57% citing perks as the driving factor behind accepting an offer at a new company. The combined percentage can be broken down into subcategories, showing that 28% of men are more likely to work for companies that offer gym memberships or food plans. 16% of employed men are looking for a workplace with regular happy hours, and 13% want team-building activities that build a solid social circle.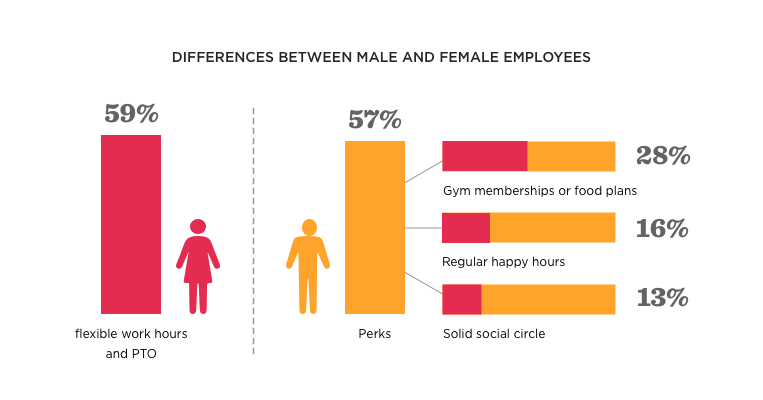 What do different age groups want?
It's no secret that for now, we're navigating a multi-generational workforce. We're all adapting to different use cases of advanced technology and communication tools that enable cross-functionality when collaborating on projects. There is a similarity between those born before 1975 and those after, with both demographics citing PTO and flexibility as their go-to culture aspects when scouting a new job opportunity.
However, a staggering 62% of employees born after '75 said that PTO and flexible working hours were their key drivers behind accepting a new job offer. That's well over half! So, while most Millennials and GenZ-ers are blatantly on the side of paid time off, those Baby Boomers and GenX-ers born before '75 are split when it comes to what they want. 48% want PTO, but a close 41% are interested in joining a company with perks plus regular happy hours.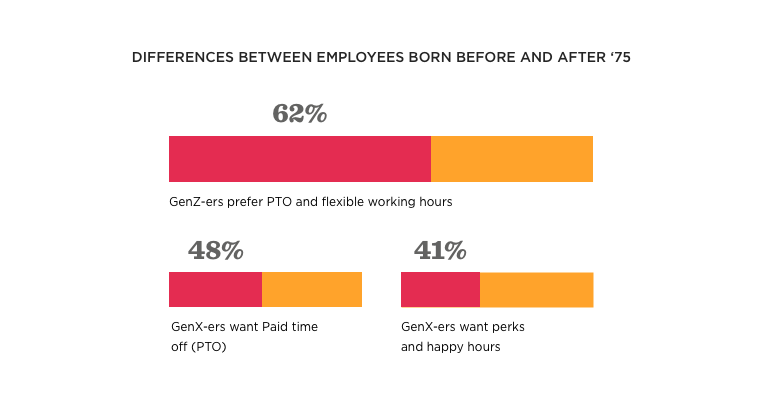 It appears as if the generation gap isn't as wide as we thought, though, with the flexibility the reigning culture king for both age populations looking to strike harmony at home and with work.
The key to developing an inclusive culture is remembering not to prioritize one demographic over the other. When looking to scale, companies should utilize survey and feedback resources that allow them to meet the needs of men, women, separate ages, different teams – you name it! Diversity your body of staff by paying just as close attention to PTO as you do perks and benefits, and soon enough, you'll be attracting and retaining everyone alike.
---
From Stephanie Stevens
Stephanie is Content Marketer at Hibob. She has a background in Clinical Psychology and Crisis Management, and enjoys abstract painting and watching horror films in her spare time. She believes that people can connect with themselves, their peers, and the world around them through creative writing, helping them foster a deeper sense of self and their life goals in the process.