Meet our People Leaders of the Month, Sander Bais (Head of HR) and Khatidja Tjon-Atsoi (Corporate HR Officer). Based in Amsterdam, they're part of the HR Team at Dutch electric car charging scale up, NewMotion.
We asked to get their thought leadership around how they empower their teams across many offices.
Why? Because this duo have been an absolute delight to work with while launching bob at NewMotion. Sander and Khatidja have worked at NewMotion for around a year and a half, and made a huge impact on the business. Particularly on automating processes and getting everyone aligned to the same business goals. It's been a pretty urgent need too, since they've been hiring over 100 people this year and last.
Read on to learn how their HR team have aligned different offices and departments to the wider business goals…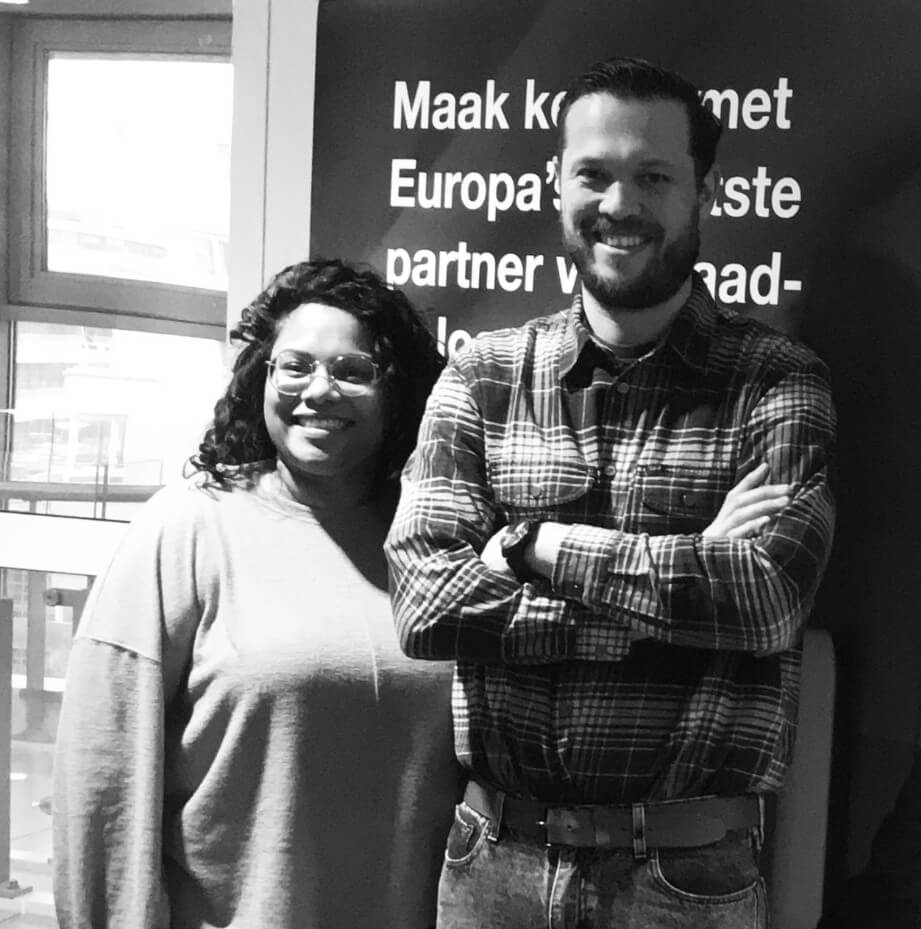 Hey Sander and Khatidja, thanks so much for talking with me today. So first up tell me: what makes NewMotion's culture special?

Sander: We're a very flat organisation, with a super informative culture. And that comes down to the management team – they're really open and approachable.
They call us a non integrated company. We're 100% owned by Shell Energy, but they don't tell us how to run our organisation, they want to keep our entrepreneurship in place.
Is there anything about your org culture that makes it unique to being Dutch?

Sander: Well, the Dutch culture is honest and direct, which is probably one reason why our work culture is so open.
But actually we have a lot of nationalities working for us. We have entities in the Netherlands, UK, Germany and France. We have business development managers or one-man-shows in Norway, Denmark and Italy. For the future, we're also looking at Switzerland, Spain and Portugal.
Wow, that's a lot of different cultures. How do you make sure all the offices and teams are aligned to the same mission, vision and values of the business?

Sander: The goal of NewMotion is to get everybody driving electric cars before 2020. Making a cleaner planet attracts a lot of people, so hiring people that believe in our vision is key. It's a really fast growing market.
We also have our company DNA, which you can see on posters in the office. And there's many topics around it too. For example, our DNA Champion of the month. But I think it will change to an extent, as we're growing very rapidly. We almost hired 120 people this year. Last year it was also over 100. It's a lot…
How do you keep all those new hires and offices engaged?!

Sander: One of the tools we have in place is the monthly meeting. Here the CEO discusses all the results in front of the company. Everybody sees the financial resources and achievements from every department in the business. Everybody logs in, no matter where you are in the world.
The implementation of bob also plays a huge part in that. For a fast growing flat organisation like us, seeing the org chart automatically updated all the time is pretty awesome.
Khatidja: Also, because we have so many offices, a lot of people were asking for pictures of colleagues. With bob, now they see an actual profile pic. So it's helpful for them to get to know other people and have a visual idea of who they are.
Recommended For Further Reading
So you're using bob almost like an Instagram style approach: using pictures instead of words to enhance company wide engagement…

Sander: Exactly! We also introduced bob as a new employee, a part of the team. That really related with everyone. We see it as a person who does all the jobs no one else really likes! Haha!
Khatidja: I get emails in the mailbox saying "Hi bob, can you fix this problem for me"?
So cool, I love the way you've launched bob to increase user update. Before we go do you have any advice to our HR community on how to be better HR leaders?

Sander: Walking around. Really listening. Taking your time. That's what I always try and do. Being present, making the time to be available.
Khatidja: In most cases, I think HR is about connecting people to the company. It's not only about the job and the salary. But everything around it too. Bringing all people and their departments together.
Sander: Yup. Modern HR is the full package and that really requires a new skill set in itself. To really understand all those different stakeholders and what makes them tick.
Clearly your HR team have a great understanding of this! And that's great news since NewMotion is paving the way for a cleaner generation. Thanks so much for joining us guys. Your People Leaders of the Month title is very well deserved.
Click here to learn more about NewMotion's amazing culture, or follow them on Insta at @newmotion.
---
From Verity Raphael
Verity Raphael is a Senior Marketing Executive based in the London office. Since graduating with a Masters in English, she has progressed from sales to marketing at Hibob: helping the European People and Talent community feel more valued and connected to their company and colleagues. Outside of work, her passions include modernist literature, underground music, Scandinavian design, positive people and art galleries.