Meet the wonderful Alyx Gilham from the Hibob London office. Thanks to her positive, hardworking, and professional attitude she's progressed from Office Manager to Business Operations to People Operations Manager in just two years. And as Hibob has grown at an unprecedented rate, so has she! Read on to find out how…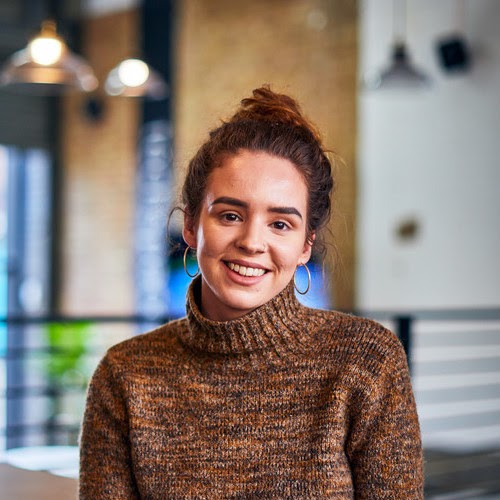 Hey, Alyx! So first up I'd love to hear about your progression from Office Manager to People Operations Manager. How did that come about?
So, I joined as Office Manager in 2018, responsible for finances, onboarding, and admin. Then as my role expanded, that changed in January 2019 to Operations Manager. Now we've hired an amazing new Office Manager, so I've just moved over to focus on the HR and People side of things.
And what areas are you looking at in HR and People?
I'm currently reviewing our London HR processes for 2020. It's been great because bob's HRIS has helped with all these areas. Especially how we recruit, onboard, and measure engagement… because we're growing really fast!
Culture's always played a big part in your role…
Yeah, and I love it! Having a great company culture underpinning what we do at work each day is so important. I'm always excited by the fact that my role can have a big influence on this. I'm really passionate about helping our people to be happy and productive at work. In my operations role, I've been fortunate to experience different areas of the business and in my new role, I have the opportunity to use this to develop our HR.
How has Hibob supported your growth professionally and personally?
I'm studying CIPD at the moment, which I'm being supported to do by the business. I'm learning so much about the business overall, and how my role as HR plays in this.
At bob, we have such a great team and I've always found everyone so open to helping each other, which I really value at work. My wider teammates are based in our Tel Aviv office, so we always make sure we speak frequently and check in on each other since we don't see one another each day.
Yeah, I think with bob, if you put work in, they'll give back.
Definitely! There's a lot to do, but it's noticed and appreciated when you put in the work and everyone works so hard to achieve our goals. We have a lot of scopes too…that's the beauty of the scale-up phase. If something isn't working we have the autonomy to change it. I think that can be quite underrated – being listened to. You might not think of it as a massive perk, but I do feel listened to at bob.
You mention the scale-up phase. It's amazing to see you grow so fast with the company over the 2 years working here!
When I joined 2 years ago there were 75 employees globally, and the New York office didn't exist yet! Now we're over 160, it's over double. We know startups grow and change quickly but it's such a unique thing to experience. When I think back to how different it was when we first joined, it's amazing to reflect on how far we've come.
I know right!? It's crazy. What's your favourite thing that's changed?
Well, the new London office is definitely my favourite of all the offices we've been in. Moving here was a massive project for me – it took most of last year! A lot went into it and it's so cool to see it come to life. That felt like a big step up, to have our own floor with our branded stamp on it is so exciting.
How do you communicate with the global team and get everyone involved?
Well, we have bob for starters! Haha. Global comms are very good here. From shoutouts to giving kudos and welcoming new joiners…all the employees have access to that. Everyone engages with bob very well, and we like to stay in touch like that a lot. If I wanted to communicate between offices I'd use bob and Slack, as the two are integrated. As we continue to grow I think it's so important to maintain this level of connection between all our offices.
On a day-to-day level, my colleague Reut looks after HR in Israel and New York, and we make sure to keep in sync and maintain that global link. We use bob's onboarding workflows for new hires so everyone is connected when they join the team. The global team gets to-dos to make the process smooth for the new hire. It makes it easier for them, and everything is replicated across our offices so everyone has the same experience.
And that's just more engaging, isn't it! Do you have any plans for the future?
Well, I'm still doing my CIPD course – I'm aiming to finish that this year and put everything I learn into practice of course! And just seeing more of the team grow and develop, and how our HR evolves with that.
Thanks so much, Alyx, we are so lucky to have such a star on the team. Massive kudos for all the incredible work you've done with Hibob!
---
From Verity Raphael
Verity Raphael is a Senior Marketing Executive based in the London office. Since graduating with a Masters in English, she has progressed from sales to marketing at Hibob: helping the European People and Talent community feel more valued and connected to their company and colleagues. Outside of work, her passions include modernist literature, underground music, Scandinavian design, positive people and art galleries.