Ah, February. Love is in the air! Both romantic and platonic. The modern office is swarming with good vibes, as well, with swag and flowers being gifted to employees from their companies, showing how much they truly care. Work is a second home for most, and we spend much of our days getting to know the people around us. That's why showing gratitude and kindness during this special time of the year can be crucial to keeping our work friendships alive.
We're celebrating love and kindness this month with a unique culture with bobbers feature. This time, our people are all about building professional relationships and sharing special connections with the colleagues they work with. At Hibob, we like to celebrate one another's milestones and get to know each other on a personal level, making this the perfect February series.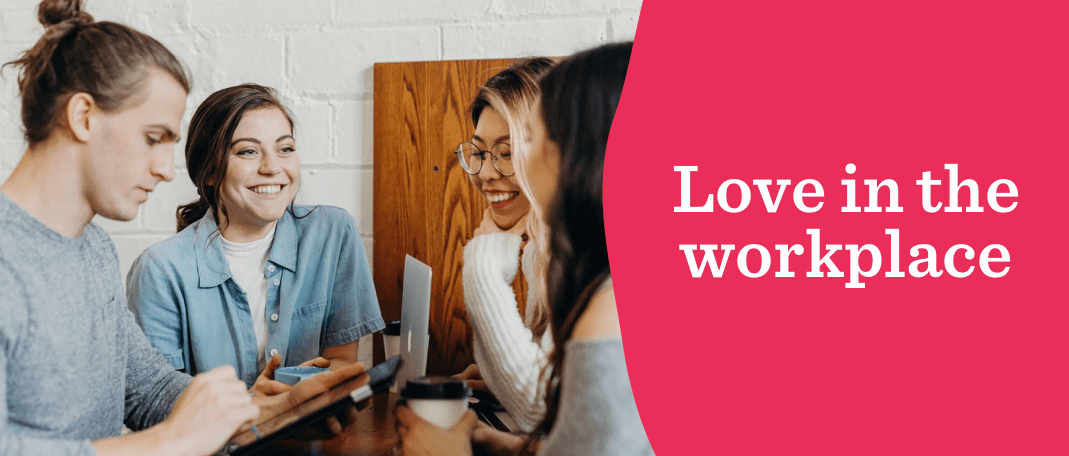 On building new relationships…
Meeting new people can be intimidating. At times and for some, it may even feel like an impossible feat. However, as #bobbers, we each have our own way of introducing ourselves to one another, regardless of who's the new joiner in a starting situation.
Rony Rosenberg is a Frontend Developer, Rony likes to take his time feeling comfortable with new people explaining, "I'm a bit shy at first, so it takes me some time to 'warm-up' and get comfortable. It helps a lot to go out for lunch with new people, collaborate with other departments, or even just meet an unfamiliar colleague in the kitchen for coffee or tea!" At Hibob every new joiner is presented to everyone with a "Shoutout" and it makes it easier to go up to them and say Hi, glad you're here! 🙂
Hibob's Head of Legal, Gal Bruck, is more steadfast in her approach to building new work relationships; "I start building work relationships from the first day; each initial interaction with a colleague is an opportunity to start building my relationship with them and getting to know the company's values and culture." She is not shy at all when approaching people and introducing herself.
On getting to know coworkers better…
Getting to know someone you feel a tad distant from is a doable task! #bobbers get to know people professionally and personally by cutting out the tech stack that often places boundaries between us.
Keren Hillman, Regional VP of Sales and Operations, likes to schedule her one on one time with new people saying, "I usually schedule 30-minutes introduction meetings with key people from my team and colleagues I make sure the meetings are with the camera on! I want to be able to smile and say hi! It is important for me to meet people face to face when learning my new role. In addition, I'll invite people for lunch outings or after-work drinks to get to know them and who they are outside of their job positions."
Erica Seal, Account Manager at Hibob, also likes to take a professional approach to meeting new people saying, "meeting representatives from each department is a good way to get to know people and bob sets this up nicely as part of the onboarding experience. I loved it! Having a contact in each department I was familiar with made it easier to socialize."
Marketing Designer, Boaz Dargan, likes to keep things a bit more organic during his first encounters; "The best relationships are the ones that are built slow and natural. I find that putting in too much effort or 'trying too hard' misses the target – Have some patience with people. Start with a friendly 'Good morning' or 'See ya tomorrow!' Kitchen small talk is always nice too, and remember to invite people to lunch personally, not through email as if it's a work task."
On celebrating your colleagues…
It's always exciting when someone you've grown to care about hits a major life milestone. We hear that someone is expecting a child, getting married, has a birthday, or just received a promotion and we all want to jump in the air with joy. #bobbers gauge the appropriate responses to such events by measuring their closeness to an individual and then congratulating them from there.
Keren states, "it depends on how close a colleague and I are. If one of my team members is celebrating something, I'll buy a cake and make sure we congratulate them as a collective department. If it's a close friend or peer, I'll invite them for lunch or a happy hour outside of the office."
Gal likes to greet any those celebrating a milestone with "plenty of excitement and in a way that makes them feel special" and Rony likes to "give them a present with the whole team."
On welcoming new joiners…
Being the new kid is scary; we can all appreciate the effort it takes to start a new job. So, when a #bobber encounters a new joiner, we make an effort to include them and show them the ways of our company culture. It's important to express enthusiasm and kindness to someone who is embarking on their new bob journey.
Rony and his development team "arrange a team lunch and assign the new hire a buddy. This new buddy should be the person that helps the joiner during their first few months and shows them around Hibob, introducing them to new people in the process."
Gal likes to apply her own personal experience to the way she treats a new joiner at the company; "As someone who has been new a lot, I know how important it is for someone new to feel included and always try to have them join the conversation to feel welcome to their new work home."
Boaz takes it slowly, explaining, "it's important not to overwhelm a new employee. During their first week, a simple 1:1 coffee break would be great. In my first conversations, I also make it a point to never discuss work. The human level is much more important – where you're from, what your hobbies are – trying to find common ground to connect on."
On sustaining work relationships…
Sometimes work friends become life friends, and before you know it – BOOM! You forget what life was like when you were just colleagues. Some bobbers have created lifelong friendships with people who started out as a co-worker or manager. Rony created a friendship so strong that he became a pillar in his colleague's life, stating "My best friend and I met around 8 years ago and we became besties. I still see her all the time and even held up her Chuppa when she got married."
Erica is another #bobber who keeps her work friends close to her heart exclaiming, "I'm so lucky to work with such a strong team of people who I've been able to create great connections with! These work friendships are priceless and my team keeps me laughing and engaged everyday. They are a good reason why I'm excited to show up to work."
Boaz is proud of the connections he's garnered in his professional career; "I'm proud to say that at work, I've built long term friendships on the brother and sister levels that will last a lifetime. However, it doesn't work that way for everyone. At work, you can have tons of buddies and only keep in touch while at that specific company – that's okay, too!"
Work friendships make office days more fun. They're people to laugh with, share stories with, and celebrate life changes with when the time calls. By respecting each other's personal boundaries and taking an interest in one another's lives, who knows – you could create connections that last longer than you expected.
---
From Stephanie Stevens
Stephanie is Content Marketer at Hibob. She has a background in Clinical Psychology and Crisis Management, and enjoys abstract painting and watching horror films in her spare time. She believes that people can connect with themselves, their peers, and the world around them through creative writing, helping them foster a deeper sense of self and their life goals in the process.